It feels good when technology just works. Â Back in February, I bought a real goddamn RAID card, five 2TB hard drives, and a tray-less 3-to-5 SATA2 hot swap bay enclosure.
Then, last week, my RAID card made a horrible shrieking alarm sound that made me think the apartment was on fire. Â Turned out it was just my RAID5 array… Â One of the 2TB drives failed, hard. Â I'm used to motherboard RAID losing sync with drives if they time out, and claiming the array failed, so I gave it the benefit of the doubt and attempted a rebuild. Â It failed to rebuild.
So, first thing I did after I got the money together was bought another drive from Newegg.  Then I did an RMA on the original drive through Western Digital.  It was a very painless experience; Enter the serial number, enter the reason for requesting an RMA, choose between cross-ship, and normal return (Normal, since I already had a drive en route from Newegg.), and then pay $6 for a UPS return label.
New drive arrives from Newegg (this morning), and we set about what needs to be done.
Unpack new HDD.
Tell the RAID card to 'unplug' the failed drive.
Unlock and open the corresponding slot on the enclosure.
Remove failed drive, replace with new drive.
Wait for RAID manager to recognize new drive, and then initialize it.
Select damaged array, click 'Add Drive', select newly initialized replacement. Â Rebuild begins automatically.
Pack failed HDD in static bag and shipper from replacement drive, apply UPS shipping label over label on Newegg box.
Holy shit, son. Â It's like we're livin' in some kind of FUTURE SPACE WORLD, where shit just works like it's supposed to!
Now I'm gonna go on to the gritty details of the hardware, with a couple pictures, after the jump. Â So stay tuned if that sort of thing interests you. Â (I guarantee premium hardware porn, you betcha!)
For years, I've suffered the bullshit of on-board RAID controllers. Â My first big RAID array was a RAID5 of 4x500GB SATA2 drives. Â The RAID chipset on my ASUS M2N32-SLI Deluxe was decent enough, and the array survived long enough to have its 1.5TB of data transferred to a single mirrored 1.5TB drive, so I could replace the array with 6 1.5TB drives. Â (Out of 8 that I bought, because that was all that fit, and spares are good.) But then, one of those 1.5TB drives failed…and that's when I found out that the RAID tools for that motherboard, aren't compatible with Windows 7. Â Meaning I can't rebuild the array, despite having two cold-spares, unless I install XP or something. Â Fuck. Â That. Â Noise.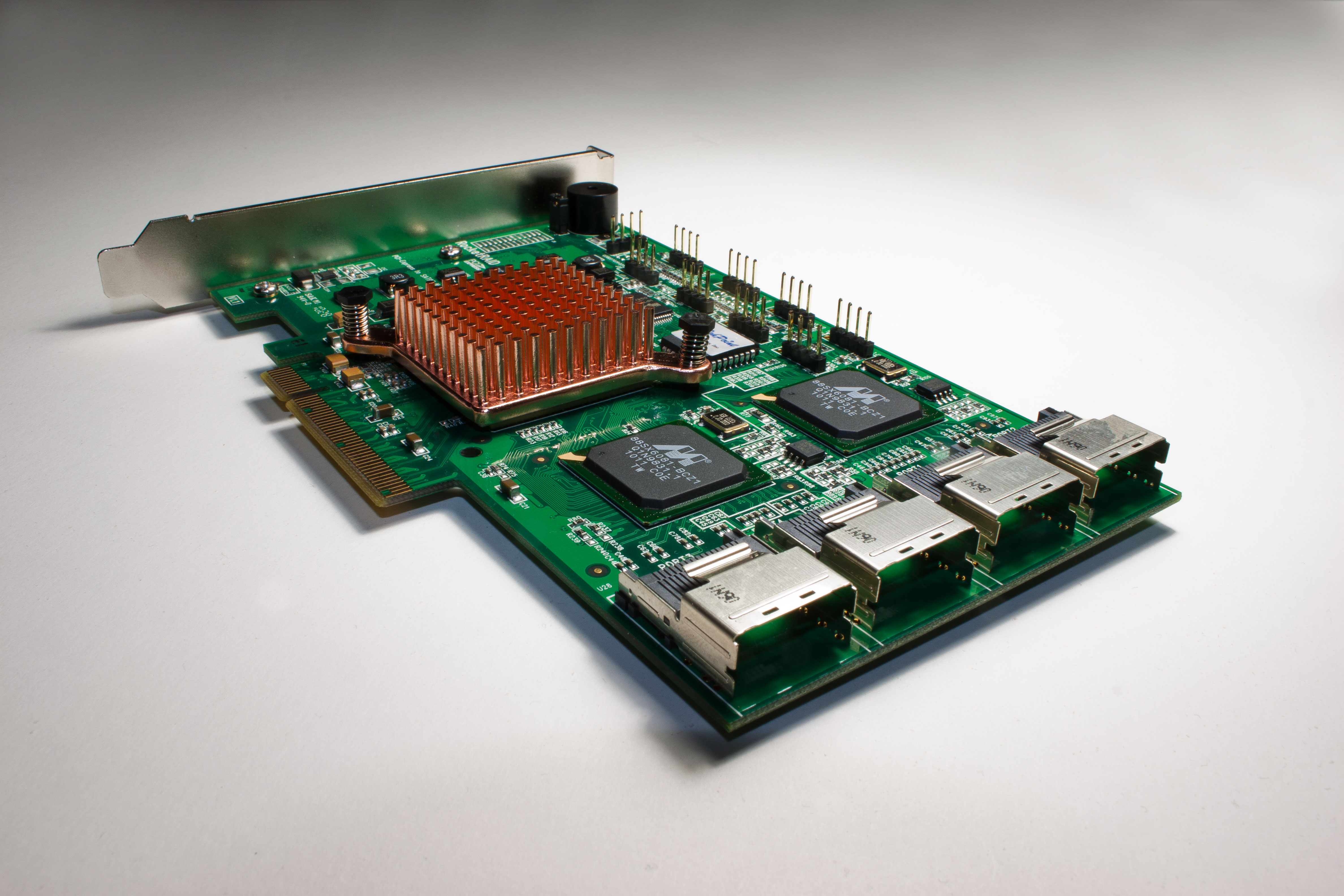 With tax refund time quickly approaching, I decided to get a real RAID card like I'd intended to for years, but always ended up not being able to afford. Â And it just so happened that Newegg was having a great sale on 2TB Western Digital HDDs. Â I settled on a RocketRAID 2340, a nice little card that only cost like $400, but could take 16 SATA2 drives, and supported things like on-line RAID expansion, and all that happy stuff you expect from a several-hundred-dollar card. Â It even has individual Power/Access/Failure LED headers for ALL SIXTEEN DRIVES. Â To top it off, the cables, 1 Mini-SAS to 4 SATA2, are sleeved and labeled. Â Very nice. Â It's really a great card for the relatively low price.
The drives were a great find. Â Normally $99.99, they were currently on sale: $10 off instant, plus $20 Mail-In Rebate, for each drive, limit 5. Â Yes please! Â So they ended up only being $69.99 each. Â (Point of interest, when I ordered a replacement FOUR MONTHS LATER the normal price had come down to $79.99.)
The drive enclosure is nifty too. Â It was cheap ($74.99), tray-less, five HDD slots in three 5.25″ bays, and did I mention it was cheap? Â It employs an interesting mechanism where opening the slot cover acts as a lever which works a geared mechanism which in turn unseats the drive. Â Sadly, the gear on one of the slots had a manufacturing defect in the plastic which caused a tooth to break off when I was trying it out, and I had to return it. Â But because it's Newegg, I had my replacement not two days later. Â There aren't any problems with the new one. Â (As I imagined, since the other four slots worked flawlessly.)
Write a Comment